Custom Branded Protection Screens
Looking for the best promotional gift that promotes your brand uniquely and minimises risk to workers health and safety? Then you are at the right spot. The Promo Lab offers you the best customisable personal protection screens at great prices. Our guards are designed to help protect your employees by creating a protective barrier while minimising the risk of sneezes, coughs and other nasties. Easy to wipe down and keep sanitised and clean, these guards also feature your full-colour logo branded on the corner of each unit. Protect your business, your team, and your clientele with our affordable range of sneeze guards or screens. Place these company branded protective screens on service counters, office desks, meeting tables, and anywhere else you require. Made usually from transparent material, they blend into the surrounding environment whilst ensuring safety for employees and customers. Explore our collection here!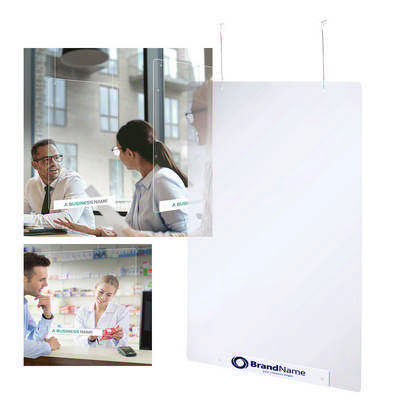 Holding Screen Redfly: If you are looking for the best brand exposure for your upcoming events, our branded Holding Screen Redfly is the right choice. It is a 680 x 980mm hanging protection screen designed to ensure maximum protection and separation of spaces. It is made of light and durable materials. The best part is that there are no tools required to fix it. It's easy and convenient for individual assembly. It has a versatile horizontal or vertical mounting design, including two independent white bands for easy logo printing.
To maintain social distancing, our self-standing customised personal protection screen is perfect. It is made in Australia from 6mm clear acrylic. Easy to keep sanitised and clean. These free-standing guards decorate beautifully and can be easily placed on a desk between yourself, staff or customers to help prevent the spread of germs through exposure to coughing, sneezing and sprays. Order in bulk now & protect your staff and clients!
Why Choose The Promo Lab, NZ?
· 100% New Zealand owned and operated branding agency
· Largest online range in New Zealand
· Fast and efficient delivery New Zealand-wide
· Customisable corporate gift packaging for staff and clients
· No gift is the same. Unique packaging options available
· 10-15 working day delivery
· Dedicated customer service
If you are in search of some different promotional products or branded gifts, then explore here. You may also love to look at other Corporate gift collections such as Wet Wipes, hand sanitisers, antibacterial items, Face masks, etc.
We also offer a wide selection of branding options such as screen printing, digital printing, resin printing, embroidery, pad printing, sublimation, laser engraving, embossing and debossing, die-cut, supacolour, kiln-fired and hot stamping, depending on the product you select. Customise your bulk/wholesale order now!
Contact us today via phone on 09 416 5500 or online to start your personalised gifting experience.
Why Our Customers Love Us?
At The Promo Lab, we believe in delivering quality and value. Here's what our lovely customers have to say about shopping for Corporate Gifting from us.
"We knew the Team at Promo Lab were amazing humans as we share the same coworking space with them but it's been an absolute pleasure to work with them on Sprout collateral that we needed. Responsive, happy to give lots of options and advice, the attention to detail was super impressive along with checking in and updates. Overall this is a business that comes highly recommended from us and will be our 'go to' going forward."
Gaynor
HR & Ops Manager, Sprout
footercontent